The more complicated something is, the more important it is to have instructions about how to use it. That's true of Internet marketing, which requires so many moving parts to work that it can be nearly impossible to keep track of them all.
Because there are so many pieces that go into an Internet marketing campaign, and because they all need to fit together in a particular way to be most effective, the absence of any of them can lead to disaster. Even if your campaign is missing one small element, you may be leaving sales behind and hurting the entire operation.
At Straight North, an Internet marketing services firm based in the Chicago area, we created the following infographic to illustrate the complexity of the lead generation process. This graphic can serve as a blueprint for anyone building or optimizing an Internet marketing lead generation campaign.
By detailing everything that goes into making a successful campaign work, this flowchart can help you ensure that everything your campaign needs is present and will fit together properly to provide the best possible results for your website and your campaign.
Internet marketing is an extremely complex process, but hopefully this can serve as the instructions you need to understand how it works.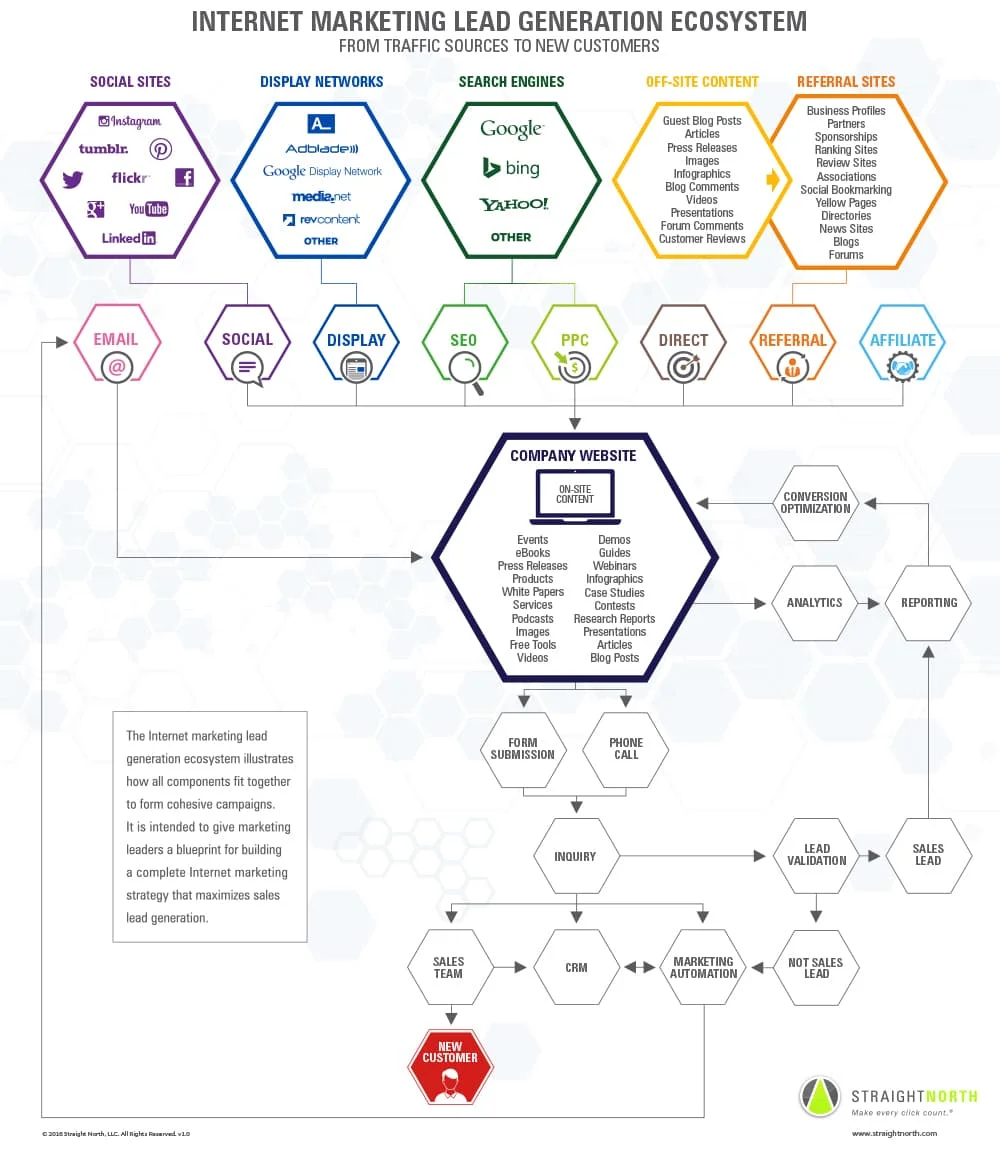 Infographic created by Straight North, an internet marketing services firm.
Author Bio:
Brad Shorr is Director of Content Strategy at Straight North, an Internet marketing company that provides SEO, PPC and web design services. Shorr, who has more than 25 years of sales and marketing experience, has been featured in leading online publications including American Marketing Association, Forbes and Entrepreneur.
Infographic Transcribed:
Internet Marketing Lead Generation Ecosystem
From Traffic Sources to New Customers
Social Sites
Instagram
Tumblr
Pinterest
Twitter
Flickr
Facebook
Google +
Youtube
Linkedin
Display Networks
– Adbacle
Google Display Network
Revcontent
Other
Search Engines
Off-Site Content
Guest blog posts
Articles
Press releases
Images
Infographics
Blog comments
Videos
Presentations
Forum comments
Customer reviews
Referral Sites
Business profiles
Partners
Sponsorships
Ranking Sites
Review Sites
Associations
Social Bookmarking
Yellow Pages
Directories
News Sites
Blogs
Forums
(Chart illustrating how each of the above connects to the sections below)
Email
Social
Display
SEO
PPC
Direct
Referral
Affiliate
(All of the above direct to the below image)
Company Website
Events
Ebooks
Press releases
Products
White papers
Services
Podcasts
Images
Free tools
Videos
Demos
Guides
Webinars
Infographics
Case studies
Contests
Research reports
Presentations
Articles
Blog posts
(Image illustrating how the following connect to each other)
Analytics
Reporting
Conversion optimization
(Image showing how the below relate to each other)
Form submission
Phone calls
Inquiry
Lead validation
Sales lead
Sale steam
CRM
Marketing automation
Not sales lead
New customer
The internet marketing lead generation ecosystem illustrates how all components fit together to form cohesive campaigns. It is intended to give marketing leaders a blueprint for building a complete internet marketing strategy that maximizes sales lead generation.